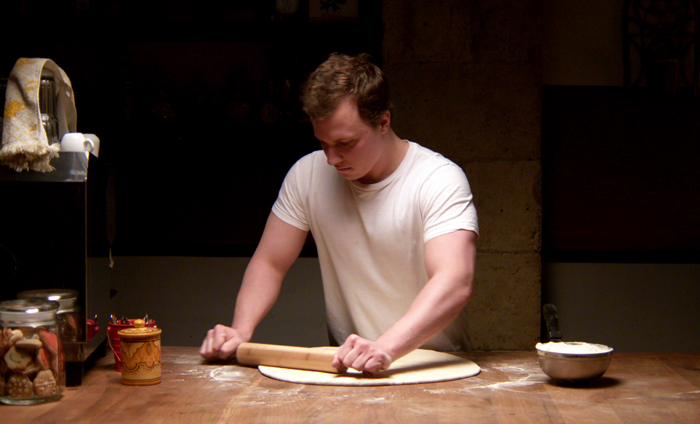 JFilm 2018 Staff Picks
Posted April 6, 2018
Overwhelmed by the problem of choice? Check out our staff picks for a JFILM recommendation.
Overwhelmed by the problem of choice? Check out our staff picks for a JFILM recommendation.​
Kathryn
​It's difficult to pick one favorite when you've seen hundreds of films and narrowed that list down to the final 20 that make up this year's lineup. They're all my babies! However, two films stayed with me long after I watched them, which is why I rank them as my favorites this year.
The Cakemaker
The Cakemaker is an absorbing story about love and loss and how people move through those emotions. It is the furthest thing from an action film with minimal dialogue and a slow pace, but for me it was engrossing. The acting is first-rate and if you like baked goods, you'll be hungry by the end.
The Last Suit
The Last Suit follows a determined old man on what is likely his last journey as he crosses three countries to make good on a promise he made in his youth. Along the way, he meets a cast of characters that help him and change him for the better.
The emotional complexity of both of these films is why I cared so deeply about the characters and thought about them for days afterwards.
Rachel
Maktub
This well-crafted dark comedy cleverly plays with the concept of fate, or Maktub, meaning "as it is written." The leading characters, Steve and Chuma, played by two well-known Israeli TV actors, are surprisingly sweet bad guys whose droll banter drives a great storyline that is both funny and philosophical—think Goodfellas meets Slumdog Millionaire. I wouldn't be surprised is this one is re-made for American audiences; then you can say you saw it at JFilm first!
Paul
If You're Not in the Obit, Eat Breakfast
I adored every minute of the documentary, If You're Not in the Obit, Eat Breakfast. With Carl Reiner leading the way, we hear from legendary entertainers like Mel Brooks, Kirk Douglas, Dick Van Dyke, Tony Bennett, and Jerry Seinfeld, just to name a few. Their resounding message, that life in the twilight years can often be even more rewarding than what came before, is both profound and inspiring. I will watch this film again and again to remind myself to stay active, stay connected, and keep doing the things I love.
Heading Home: The Tale of Team Israel
I grew up playing baseball and following my beloved Pirates. Trips to Three Rivers Stadium to see Willie Stargell and the "We Are Family" team of the late '70s were the highlight of my summers. So, it should come as no surprise that I fell in love with and highly recommend Heading Home: The Tale of Team Israel. This delightful doc gives us a behind the scenes look at how a group of Jewish MLB players came together to represent Israel in the World Baseball Classic. As underdogs they surprised everyone with what they were able to achieve. Their story is sure to inspire and I suspect it might just steal its way into your heart.
Candace
Mr. & Mrs. Adelman
Mr. & Mrs. Adelman blew me away. This film is a surprising, dynamic, and colorful portrait of a literary couple's ups and downs as they navigate their way through four intense decades. I'm a sucker for period pieces, so I loved all the fashion, music, and design evocative of late 20th century France. Plus, I later realized that the two lead actors (who also co-wrote the screenplay) are partners in real life, which explains why their chemistry on screen felt so visceral. This is not your grandmother's sappy love story; I'd recommend it for anyone entertained by the tumult of messy relationships and the luscious chaos of fleeting fame.
Lori
Sammy Davis, Jr.: I've Gotta Be Me
Sammy Davis, Jr.: I've Gotta Be Me delves into the legendary entertainer's personal life and career as he struggled with identity, vices, women, and adversity in Jim Crow America. I was captivated by his talent, engaging personality, and trajectory towards and through fame—but I gained the most from his perseverance through personal and social tumult. We have selected this film to show in our Teen Screen program for high school students—themselves dealing with questions of who they are and who they will become as they face obstacles including age, race, social class, and opportunities. Seeing Sammy Davis, Jr. succeed is an inspiration to those who look inward and see their own strengths. I highly recommend this film to JFilm patrons, age 15 and up!
Zach
Monsieur Mayonnaise
As a history buff and graphic novel enthusiast, Monsieur Mayonnaise is the perfect film for me. Australian artist and filmmaker Philippe Mora takes you on an epic journey across the globe in search of his family's history during the Holocaust. Mora's quest to understand his father's clandestine involvement with the French Resistance and his mother's survival is beautifully portrayed throughout the film with comic art. In this film, you'll learn that heroes are found in the most unexpected of places. Grab a baguette and enjoy the show!