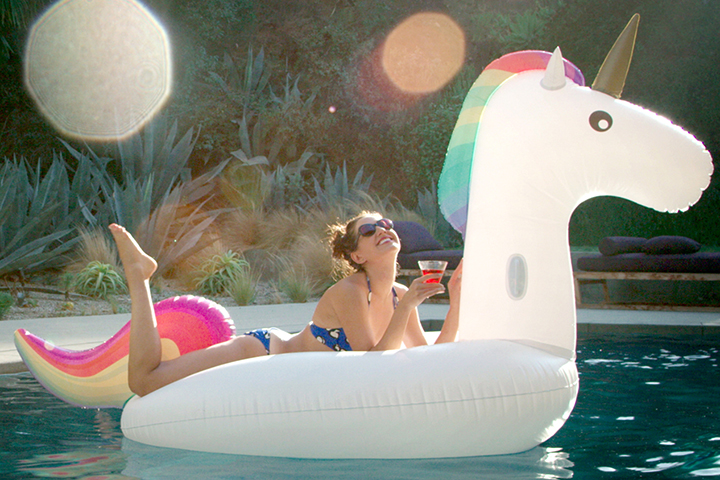 Micro Interview: Erin Brown Thomas
Posted October 25, 2017
Erin Brown Thomas spoke with Film Pittsburgh about Rekindled, filmmaking, and more.
In Erin Brown Thomas' hilarious film, Rekindled, a successful woman purchases an online deal to revitalize a high school romance she never got over.
Check out Erin's thoughts on pacing, creativity, and the power of voice.
Film Pittsburgh: If Rekindled were the offspring of two other films, who are its parents?
EBT: Rekindled has actually been compared to the same two TV shows over and over, and it's not surprising because I referenced both of them to our department heads during pre-production. Specifically, people have said that our film feels as if the creators of Unbreakable Kimmy Schmidt made an episode of Crazy Ex Girlfriend.
FP: What do you find unique about working in short form?
EBT: Short films are unique because every second counts. With so little time to tell a complete story, you can't waste a second. You have to be ruthless with your cuts—especially in comedy where pacing is everything. You can't let a moment fall flat. Additionally, since short films are rarely financed outside of crowdfunding or personal pocketbooks, budgets are generally lower per minute of screen time. You have to be extra creative to get your vision across with limited resources. Of course, sometimes these limitations create the opportunity for unique and whimsical point of views.
FP: Because it's Halloween: what's your all-time favorite horror flick?
EBT: I really like a film from recent years: It Follows.
FP: Any wisdom for aspiring filmmakers?
EBT: My word of wisdom for aspiring filmmakers is to value finding your voice above all else. Success and accolades cannot be at the front of your mind, or you will never make anything original. And don't try to be original, just tell the truth. You are an original one-of-a-kind person, so when you tell the truth in your own voice, you will make something special and unique.