We're excited to premiere Spotlight+ as our newest Film Pittsburgh series! It's similar to Spotlight—just a little more exclusive. And don't worry, the original Spotlight will still be hosted right here, on our website, for free. Let's compare the two:
Spotlight
Available on the 1st of the month, for the entire month
Free!
A critically acclaimed, Film Pittsburgh fan-favorite, or socially relevant short film
Spotlight+
Available on the 15th of the month, for 7 days only
$15 ticket price
A specially curated feature film (or series of films) from our programming team with limited streaming availability elsewhere
---
Spotlight+
We're switching it up a bit this month by partnering with the JFilm Festival. And instead of the usual feature film screening from the 15th to the 22nd, we're screening the 15 short films that were nominated for the 2021 Oscars (plus 3 that made the shortlist) now through April 21.

The ticket price for each block of shorts—Live Action, Animation, and Documentary—is $12, but you can purchase all 3 blocks for only $30. See below for the full lineup.

If you're wondering why we're ending Spotlight+ a day early, that's because our 2021 JFilm Festival opens on April 22! And speaking of—if you purchase tickets to this month's Spotlight+, you'll receive a DISCOUNT CODE for $2 off a general admission ticket, and $5 off an All Festival Pass.
This screening is available to stream everywhere from April 8 to April 21. Check out our Step-by-Step Guide if you need help activating your Eventive account and streaming from home.
ANIMATED SHORTS (Running Time: 99 minutes)
Burrow – Madeline Sharafian and Michael Capbarat (USA, 6 min.)
Genius Loci – Adrien Mérigeau and Amaury Ovise (France, 16 min.)
Opera – Erick Oh (USA, 9 min.)
If Anything Happens I Love You – Will McCormack and Michael Govier (USA, 12 min.)
Yes-People – Gísli Darri Halldórsson and Arnar Gunnarsson (Iceland, 8 min.)
PLUS A SELECTION OF SHORTLISTED ANIMATED SHORTS:
Kapaemahu (USA, 8 min.)
The Snail and the Whale (UK/Germany, 26 min.)
To Gerard (USA, 7 min.)
LIVE ACTION SHORTS (Running Time: 130 minutes)
The Present – Farah Nabulsi (Palestine, 25 min.)
Feeling Through – Doug Roland and Susan Ruzenski (USA, 19 min.)
Two Distant Strangers – Travon Free and Martin Desmond Roe (USA, 25 min.)
White Eye – Tomer Shushan and Shira Hochman (Israel, 21 min.)
The Letter Room – Elvira Lind and Sofia Sondervan (USA, 33 min.)
DOCUMENTARY SHORTS (Running Time: 136 minutes)
A Love Song for Latasha – Sophia Nahli Allison and Janice Duncan (USA, 18 min.)
Do Not Split – Anders Hammer and Charlotte Cook (USA/Norway, 36 min.)
Hunger Ward – Skye Fitzgerald and Michael Scheuerman (USA, 40 min.)
Colette – Anthony Giacchino and Alice Doyard (France/Germany/USA, 24 min.)
A Concerto Is a Conversation – Ben Proudfoot and Kris Bowers (USA, 13 min.)
---
Spotlight
The lead character in this month's free Spotlight film is certainly no April fool! As her classmates all prepare for First Holy Communion, RÚBAÍ, a feisty, eight-year-old, self-proclaimed atheist, faces emotional blackmail and dogmatic religious and philosophical debates when she refuses to participate. This comedic take on religious tolerance in modern Ireland features young actress Doireann Ní Fhoighil who is absolutely delightful as RÚBAÍ.
RÚBAÍ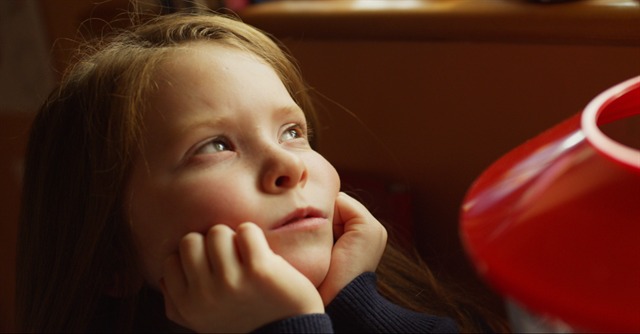 FILMS
All Films
Here's a look at some of our past Spotlight+ films: